Oniva
Hardwood BBQ Grill Scraper with Bottle Opener
| | | | | |
| --- | --- | --- | --- | --- |
| Quantity: | 24 | 100 | 250 | 500 |
| Price [4R]: | $28.77 | $27.55 | $26.98 | $25.90 |
*Price includes one standard, first-location run charge. Prices are subject to change. Additional charges may apply based on the decoration method, size, and location. Set up fee $68.75. Click decoration method icons for more detailed information.
| | | | | |
| --- | --- | --- | --- | --- |
| Quantity: | 24 | 100 | 250 | 500 |
| Price [4R]: | $17.10 | $16.38 | $16.05 | $15.42 |
Get this grill scraper for the Dad in your life. The BBQ Baron. The Grilling Champ.
Flat, BBQ grill scraper with rope hanging loop
Much safer that grill brushes with metal bristles
Includes a bottle opener
Made of rubber wood
15.94" x 4.72" x 0.79"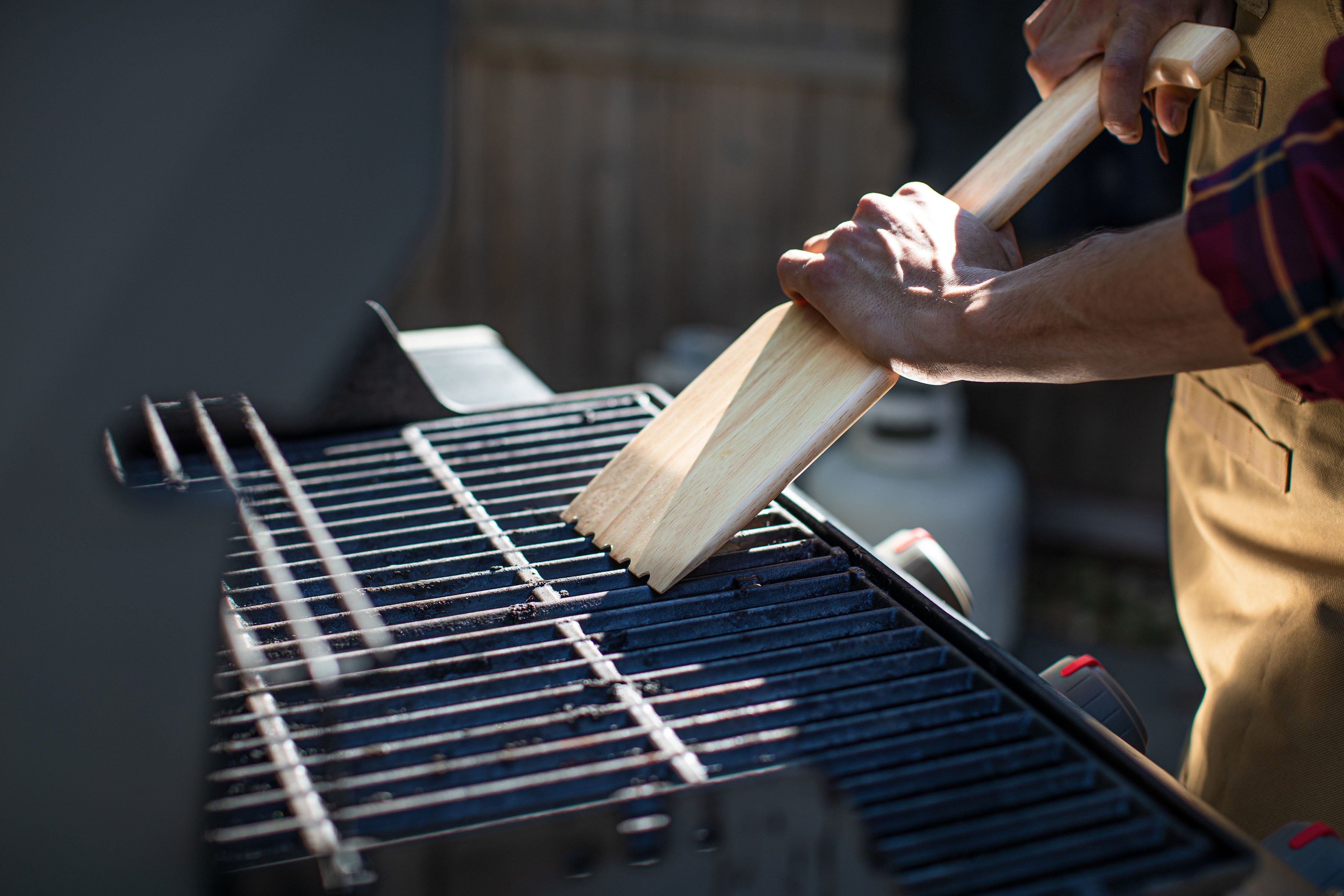 BBQ's are fun. Cleanup is not. Make your life easier with the Hardwood BBQ Grill Scraper (with bottle opener). After the meats are served, and the bellies are full, finish the job with the grill scraper that makes the job a little more enjoyable. Built with a bottle opener inside, this tool is perfect for the BBQ Baron that likes to drink on the job. Made of rubber wood and with a hanging rope loop, this is the sturdy scraper any father deserves. Oh, and did we mention you can forget about worrying whether or not your guests will ingest metal bristles with their meal. Score one for safety!
Components:
1 Parawood Grill Scraper (15.9" x 4.7" x 0.8")
Full Item Dimensions:
15.94 x 4.72 x 0.79 in.
Material Content:
98% Parawood; 2% Stainless Steel
Care Instructions:
Surface wash only with a damp cloth. To prevent wood from warping and cracking, do not submerge in water.
Standard Pallet Master Carton Quantity:
255
Standard Pallet Master Carton Dimensions:
48 x 40 x 95.1 in.
Standard Pallet Master Carton Weight:
2294.1 lbs.
Master Carton Quantity:
8
Master Carton Dimensions:
16.5 x 6.9 x 5.3 in.
Master Carton Weight:
8.82 lbs.
Single Pack Dimensions:
18 x 13 x 3 in.
Single Pack Weight:
1.3 lbs.
Default Decoration Method:
Engraving (up to 5 square inches)
Additional Decoration Methods:
Decoration:
For detailed information and pricing on all of our decoration methods,
click here
Proof Timing:
24-48 hours
Production Timing:
3-5 Business Days after proof approval (pending quantity)
Additional Info:
All orders over $5,000 require a pre-production sample
*Pricing may vary depending on size and number of decoration types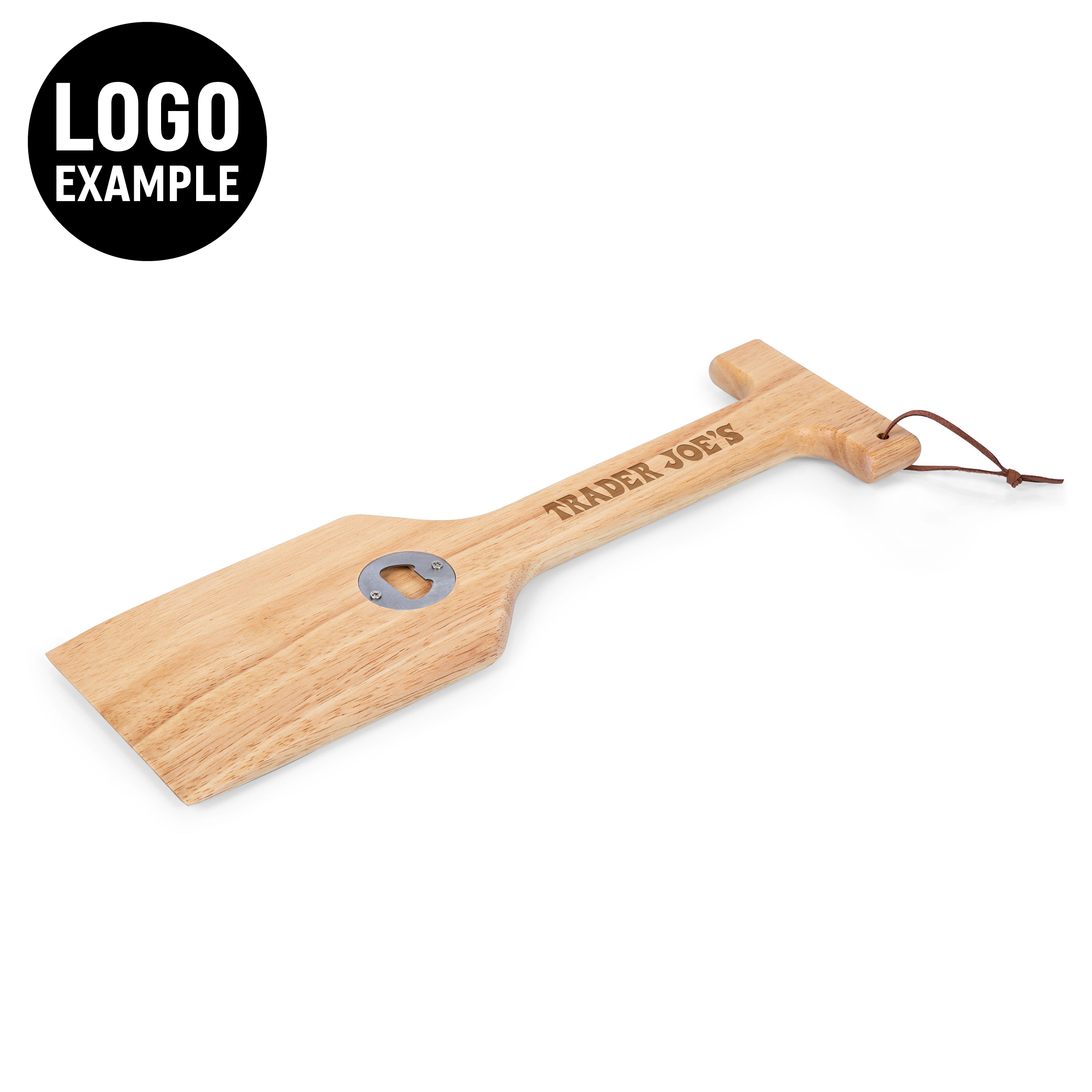 Reviews
Total 5 star reviews: 4
Total 4 star reviews: 2
Total 3 star reviews: 0
Total 2 star reviews: 0
Total 1 star reviews: 0
100%
would recommend these products
Reviewing

Hardwood BBQ Grill Scraper with Bottle Opener

Love it

This Oniva Hardwood BBQ Grill Scraper is great! It is high quality and works very well. With use this scraper gets natural grooves in the wood from the grill which in essence makes it custom to your grill, giving it such a good cleaning. This even has a bottle opener on one side. I really like this grill scraper and highly recommend it!

Reviewing

Hardwood BBQ Grill Scraper with Bottle Opener

Useful and fun grill tool

Multifunctional product, would make a great gift! I spend a lot of time grilling and drinking beer so I appreciate the bottle opener built into this. It cleaned the grill well plus it saves me from searching for my bottle opener!

Reviewing

Hardwood BBQ Grill Scraper with Bottle Opener

Handy!

Onivas Hardwood BBQ grill scraper is definitely a handy product to have! This scraper leaves me feeling good about not having any metal pieces left behind on my grill that can harm my family. Much safer! The hardwood scraper easily cleans off any food/gunk off of your hot grill surface. The scraper wipes off easily as well for a quick cleanup. I was pretty amazed at how well it cleaned the surface of my grill, it certainly worked better than my unsafe metal counterpart. Im very pleased with this product and tell my friends and family to switch over to wood scrapers!

Reviewing

Hardwood BBQ Grill Scraper with Bottle Opener

Nice BBQ grill scraper

Interesting grill scraper. Its made out of a nice hardwood, and not wires. You do not need to worry about a wire popping off this and possible getting eaten by someone after you clean your grill with this.

The edge on this is almost to a point, almost sharp. What is nice about this is since it is made of wood, the end of it chars creating a negative image of your grill grate, allowing you to scrape and clean further on the grate without slipping. So far after 6 uses, mine has charred only about 1/4 inch in depth, so it seems unlikely that you will end up with something looking like a fork from repeated use.

Reviewing

Hardwood BBQ Grill Scraper with Bottle Opener

Great Grill Scraper and bottle opener.

The Oniva Hardwood BBQ Grill Scraper is great. It cleans all the gunk off our grill so well. It took a few times of use for the wood to wear into the grooves of the grill. The added bottle cap opener was a nice touch. My husband finds it convenient to use when hes grilling on our deck.
Reviews Loaded
Reviews Added