Legacy
Growler Stand with 64oz Glass Growler
| | | | | |
| --- | --- | --- | --- | --- |
| Quantity: | 24 | 50 | 125 | 250 |
| Price [4R]: | $87.77 | $84.48 | $82.93 | $80.03 |
*Price includes one standard, first-location run charge. Prices are subject to change. Additional charges may apply based on the decoration method, size, and location. Set up fee $68.75. Click decoration method icons for more detailed information.
| | | | | |
| --- | --- | --- | --- | --- |
| Quantity: | 24 | 50 | 125 | 250 |
| Price [4R]: | $74.43 | $71.72 | $70.43 | $68.03 |
You will howl (growl?) for joy with this Growler Stand with 64oz Glass Growler!
Acacia wood base
64 oz amber glass growler
Easily disassembles for portability
Chalkboard top and chalk included for personalization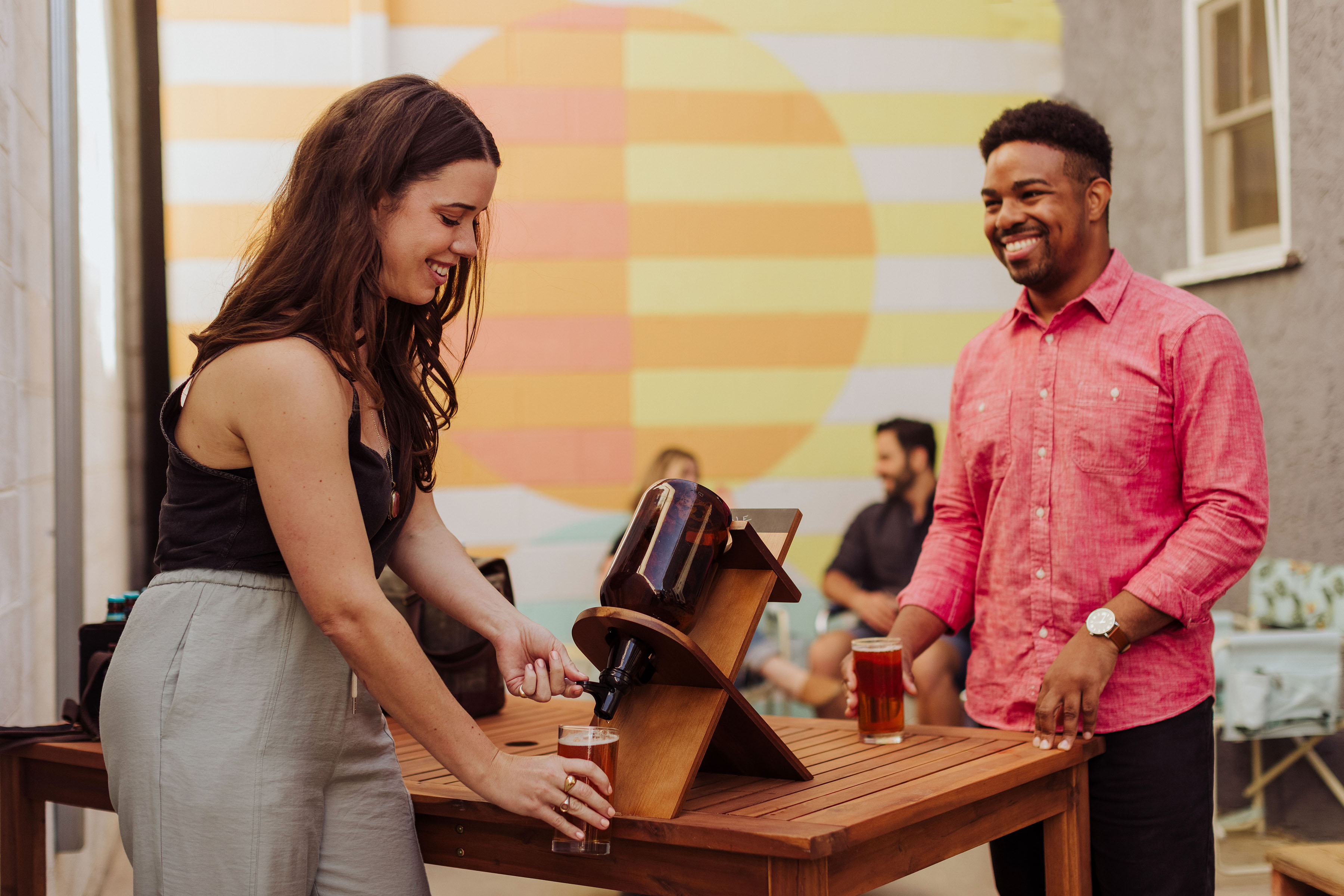 We know drinking can be difficult. There are so many options out there that it can become a little disorienting. While we can't help you with your drink of choice, we can help you with the best way to display and serve it. No matter what your "poison" is, you'll want it served up in the Growler Stand with 64oz Glass Growler. With a rugged acacia wood base that snuggly fits the 64oz amber glass growler, you'll have the perfect addition to your kitchen, den, or man cave. The stand easily disassembles for portability, meaning it's a breeze to bring it over to the next game, and with a chalkboard top and chalk included, you can personalize the crap out of it. Show off your team spirit, write a witty comment, or let your friends know it's totally not poison. This mini keg is your best friend, and you'll be wondering how you ever served up drinks without it before!
Components:
1 Growler, (Amber Glass, 5.2" x 4.5" x 11", 64oz.),1 Acacia Growler Stand (12.3" x 7" x 14")
Full Item Dimensions:
12.2 x 7.09 x 14.17 in.
Material Content:
95% Acacia; 5% Glass
Care Instructions:
Surface wash board with a damp cloth only. To prevent wood from warping and cracking, do not submerge in water. Not dishwasher safe.
Standard Pallet Master Carton Quantity:
24
Standard Pallet Master Carton Dimensions:
48 x 40 x 82.2 in.
Standard Pallet Master Carton Weight:
768.6 lbs.
Master Carton Quantity:
4
Master Carton Dimensions:
15.75 x 15.5 x 19.375 in.
Master Carton Weight:
30.15 lbs.
Single Pack Dimensions:
8 x 8 x 19 in.
Single Pack Weight:
7.05 lbs.
Default Decoration Method:
Engraving (up to 5 square inches)
Additional Decoration Methods:
Engraving

Available Heat Transfer Locations (Max Size)*:
Front of Growler Stand (6"L x 6"H)
Available Silkscreen Locations (Max Size)*:
Front of Growler Stand (6"L x 6"H)
Decoration:
For detailed information and pricing on all of our decoration methods,
click here
Proof Timing:
24-48 hours
Production Timing:
3-5 Business Days after proof approval (pending quantity)
Additional Info:
All orders over $5,000 require a pre-production sample
*Pricing may vary depending on size and number of decoration types